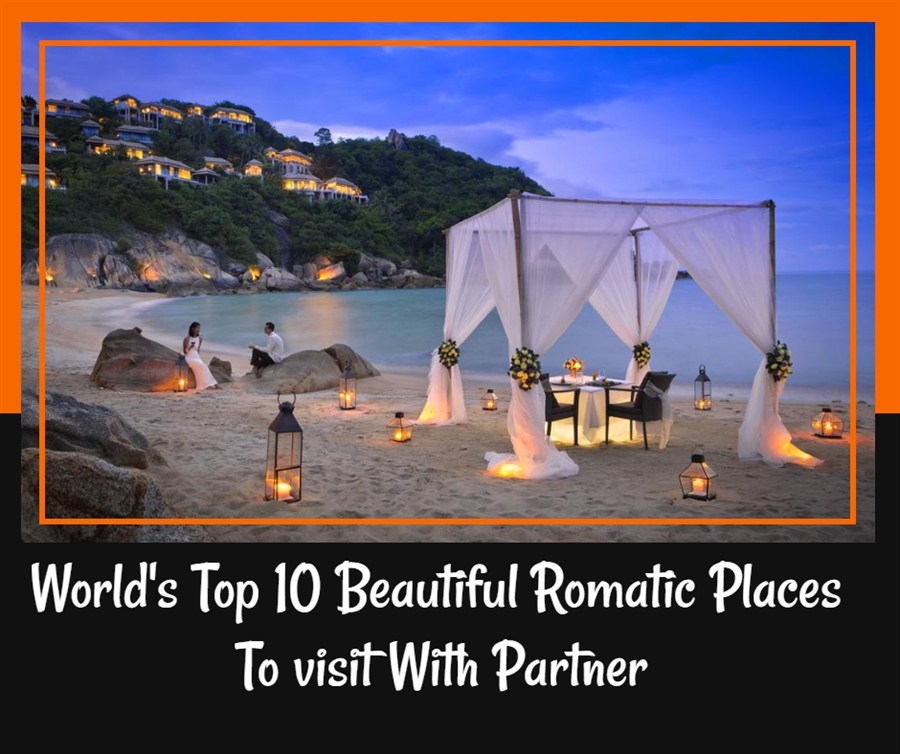 Amidst our life's hustle bustle we are often on a lookout for escaping from our routine to some romantic travel destinations. Also, on some special occasions like anniversary or marriage we look forward to create beautiful romantic moments with our partner.
At times, we are simply looking forward to surprise our partner or give our boring routine a romantic twist. These top 10 destinations could also be considered for visiting on special occasions like marriage anniversary. Some of these beautiful honeymoon places are at far off places while some would be a few hours flight away or few hours of train journey.
So lets dive into the 10 best romantic places to travel that you should consider visiting for your trip in 2022-23, as per your location convenience and budget.
I – Romantic Travel Destinations ( Beaches)
1 – La Concha Beach, San Sebastian, Spain, Europe.San Sebastian is one of the top tourist beach destinations in Europe and has been ranking in top 10 beach destinations for Europe. Visit with your partner to experience the unique culture of Spain with delicious cuisines served by over 50+ restaurants in this city. One of the most beautiful attraction here is to visit Shell shaped island.
Activities :
1) Visitors can indulge in the water activities like fishing, speed boat riding, sunset cruising, snorkeling and Scuba diving.
2) Take an electric bike tour for sightseeing and experience its core essence of culture, street-food & heritage.
3) There are many unique cultural event happening throughout the year, so plan your timings as per what you like to experience.
2 – Seychelles, Islands in East-Africa.
Seychelles in a small island country in east of Africa.  This is archipelago of 115 islands situated close to equator.
Rainy season is mostly concentrated from December to February, making Seychelles one of the best island places to soak in the sun almost all year long.
Activities: Apart from the usual under water activities, you can plan your itinerary to experience the culture, adventures or visit 2 most popular UNESCO heritage sites here.
The shopping , cultural religious activities can be experienced at huge native Mahe Islands.
3 – Maldives, A tropical paradise in South-East Asia.
Maldives is one of the top international romantic travel destinations to visit around the world. Maldives is a small island nation comprising of 1100+ islands towards south-west of India and west of country Srilanka.
This small country has only few handful islands that have native population, else most of the islands are small native islands where resorts are situated.
This feeling of staying at resorts on private islands gives such a luxurious and out of the world feeling.
Activities : Like above 2 beach destinations, here also you can indulge in all awesome underwater activities.
The biggest advantage of Maldives over other destinations is that its 'VISA on arrival', so all you need to do book air tickets and plan your itinerary.
II –  Beautiful Travel Destinations ( Cities and Nature)
4 – British Columbia, Canada
Victoria is the capital city of British Columbia, Canada. It is located on the southern tip of Vancouver Island.
The Victoria experiences the positive degree temperature all year round. During winter, the minimum temperature hovers around 2 degrees, lights showers combined with some sunny days can be expected during the winter time with rare snowfall.
During the summer the temperatures are very pleasant with maximum temperature hovering around 25 degrees.
Activities: Travel around the city on horse cart with your partner, visit beautiful gardens, tour big castles, visit museums, cruise boat tours and do shopping at local markets.
5 – Keukenhof, Netherlands
Keukenhof is our favourite in our list of Best Romantic Travel Destinations. Its fondly know as the 'Garden Of Europe', is one of the largest Flower's Garden of the world.
It is set across 79 acres and is blessed with weather that flourishes thousands of different species of flowers, making it one of the most beautiful destinations to visit for nature lovers.
Keukenhof is 1 hour drive from Amsterdam, so you don't have to make any special plans. Just book with a tour operator from Amsterdam or use public transport to reach this beautiful destination.
Best time to plan a visit here would be from March to May as maximum flowers are in full bloom and that makes it for beautiful romantic memories of lifetime.
Activity : Take a good long tour around Keukenhof since there are 100's of different flowers  species around to explore.
6 – Santa Barbara, California, United States.
Santa Barbara is blessed with Mediterranean climate, so even the winter's are pleasant with minimum of 4-5 degrees.
It has beautiful beaches, mountain cliffs, cultural heritage, large wine yards, coffee plantations, famous farmer's market and a lot more.
It is a beautiful green city with romance and energy in its atmosphere.
Moreover, there is an American comedy Show 'Psych' have been extensively filmed in Santa Barbara. So, if you want to catch glimpse of this city, while laughing, then give few episodes a try.
7- Prague, Czech Republic
Prague is capital of Czech Republic, its a beautiful heritage city popularly known as "The city of Hundred Spires"(Building structures that resemble pyramid structures on the top).
Every nook and corner of the city is worth experiencing. It is packed with around 280 museums for heritage lovers.  Travel  entire city on horse carts and visit the astronomical world's most ancient clock.
visitors can also tour city on the cruise sailing through the river canals here. It has 600 + bars & 100+ night clubs, which makes sure that you will surely gonna have an awesome night life.
III – Top Anniversary Destinations ( Picturesque towns, Hills and Lakes )
8- Hallstatt, Austria, Europe
Hallstatt is again one of our favorite and our dream destination too. This small beautiful hill side village set on the western shore of Hallstatt's lake. This destination will give a feeling of being in picture perfect scenic world. Every where you look there will only be awe-inspiring beautiful nature, ancient 16th century alpine houses, glaciers and waterfalls.
Stay beside the lake shore resorts and hotels to experience the beauty of this place with beautiful sunrise, sunset and beautiful starry night gazing across beautiful lake.
9 – Ooty, India, Asia
Ooty is the small beautiful hill station in Indian state of Tamil Nadu, offers the most beautiful scenic view.
It has the most beautiful scenic lake situated in between of the beautiful mountain slopes, beautiful Botanical gardens spread over 22 acres, valleys and the tree covered slopes.
The Ooty is famous for its various tea plantations. Ooty has the best climatic conditions throughout the year. The Temperature hover in range of 20 degree Celsius to as low as 0 degree in winter, but still you can plan your visit to this hill station all year round, except for the rainy season which is from May to October.
You can reach to this nature heaven by road or by another beautiful way which is by mini toy trains, these toy train takes you to the hill top of this beautiful hill station.
Want to know about other hill stations of India, follow this – Top 7 Most Beautiful Hill Stations In India 
IV – Romance in Air 🙂
10 – Bruges, Belgium
This beautiful small canal city is famous for medieval structures historically made back in 13th century. Brudges is famous for chocolates, waffles, fries and world's 3rd most consumed drink, BEER…
Activities to do :
Visit historic museums, take cruise through canals in the entire city with your partner.
Eat delicious foods in the main square market and do boating at beautiful Minnewater lake. 
Visiting to these romantic travel destinations that bring out the best romance can be one of the most beautiful feelings a partner can experience while being in love.

So make the best of our world and plan an awesome trip to above places based on how easily accessible it if for you to plan and how affordable it turns out for you.
Share with us the beautiful romantic places you have visited in comments below and share this with your romantic partner to decide on which place you would like to plan together.