Our world is blessed with thousands of beautiful destinations, and to add to the charm of these beautiful places, we have some of the world's most finest luxurious resorts at those beautiful destinations. These 5* Resorts are the truly the new definition of luxury where you would be pampered like you are the King/Queen. The guest experience the splendor of cliff side Jacuzzi's, peaceful relaxing nature retreats, beach side villas and much more with finest of amenities.
We have taken our top 10 picks from 5 star resorts, some resorts on the beach side, some on the hill side, few most awesome resorts located amidst nature and few unique 4 star resorts. So sit tight as we go around the globe to bring you the most awesome hotels and resorts for the best luxurious stays that offers you exquisite living.
Luxurious Resort 10: Nayara Spring, Costa rica, Fortuna, Central America
Rated as no. 2 hotel of the world in Year 2014. It is located in the renal Volcano National Park in amidst of nature. You would find perfect luxury in the cluster of secluded luxury villas. Often in city's we hardly find a quiet place in between our fast lives to just sit and relax, So here a destination for you to unwind amidst the beautiful nature.
What it offers: Yoga, Spa, Bar, Nature & Hut shaped room with Jacuzzi.
Cost: Price starts with 750$ a day. 
Know more about Nayara Springs for booking: Nayara Springs, Costa Rica  
Luxurious Beach Resort 9: Banyan Tree Samui, Surat Thani Province, Thailand    
Located at Exclusive Beach front on Lamai Bay, a small tropical island in Thailand. It offers breath taking view of the sea with private infinity pool has an relaxation area for your leisure activities and has a good sunny climate all year round.
How to Reach– 30 mins drive from Samui International Airport
What's Awesome Here- Beach facing villas with infinity pool, thai spa, fishing, diving, 10 mins drive from famous grandfather and grandmother rocks
Cost: Deluxe pool villa range starts from 700$

Book this Amazing Beach Side Resort- Banyan Tree Samui, Thailand
Luxurious Peaceful Resort 8: Grand Hotel Marriott Resort, Fairhope, Alabama, United States
Located beside the breezy sea beach at Point Clear, Alabama state, United States. Luxury at its best, beautiful sunset view from your Cottage. During the night time you will enjoy the calmness and beauty around the cottage. Also, you will enjoy the humid subtropical climate here all year round.
How to Reach- 10 mins drive from Fairhope Airport
Whats Unique- Large lagoon-style outdoor pool, a hot tub, a children's splash park, Golf Course and a lap pool.
Cost: Stay Rooms range starts from 200$
Luxurious Golf Course Resort 7: Welsh Hills Inn, Ohio, United States 
Welsh Hills Inn situated amidst welsh hills at Granville, Ohio, united states. It has Won the 2017 travelers award this year for the 5th time in a row. Its Surrounded by 15 acres of greenery of tall trees like alpaca and countryside. You can explore the hiking trails, fishing pond with resident ducks and fountain, clay boccie ball court (lighted), shooting and archery range around the Welsh Inns.
Here in Welsh Inns you will enjoy horseback riding, the lush greenery, the relaxing atmosphere, big golf courses, beautiful hills around the welsh inns combined with the great food. Plan a trip here for a calm slow relaxing life amidst natures lap.
Cost: Starts from around 200$.
Check there official site for more info & bookings- Welsh Hills Inn
Luxurious Exquisite Resort 6: Atlantis, Bahamas, North America    
Atlantis is Situated at an island in Bahamas, north America. It has an aqua park having the best view of the adjacent sea, there is a bridge that takes you to the Atlantis which makes up for a very beautiful scenic beauty.The Bridge Suite at the Atlantis Paradise Island is perfect fit to make you feel like a king at  approx. $25,000 a night.
How to Reach- 
Close to Nassau International Airport.
Whats Amazing: We would say Everything, as it gives the best of the world's luxuries that you could ever imagine, it has beaches, pools, casinos, spas & much much more
Cost: Suites starts from 1200$+
Luxurious Resort 5: Grand 
Hyatt, Hotel Cannes Riviera-Martinez, 
France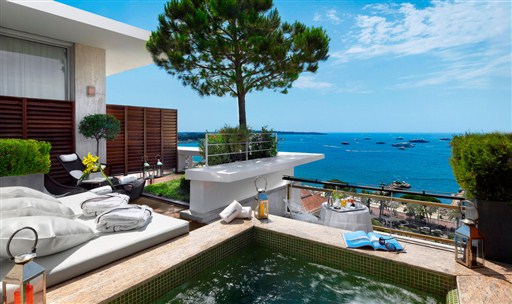 It is located at Cannes, France. It Offers a breath taking view of the sea and mountains. Enjoy poolside or near sea as it has the sunny weather all year round. This hotel is one of the most costliest hotels starting with room rates from approx 5000$ and the Penthhouse suite(in the photo above) at the grand Hyatt cannes Martinez gives you feeling of a movie star for approx $37,500 a night.


Book this 5 Star Luxurious Resort- Cannes Riviera Martinez, France
Luxurious Retreat Resort 4: Taj Lake Palace, Udaipur, India
Located in City of Palaces, Udaipur, India. This 5-star palace is situated in the middle of the beautiful lake named Pichola. The scenic beautiful view of the lake and the hill nearby adds to the charm of this palace. The Royal Indian food combined with the big palace rooms will make you feel like a king. Go and experience this Palace in the Udaipur city of India to experience the life of a king in 21st century.
Cost: Around 500$ 
How to Reach – Close from Udaipur International Airport.
Why to choose this stay: To get the feeling of the kings and the queens of 18-19th century times with best of Indian delicacies. To experience the charm of this 5 star palace, which is surrounded by lake on all 4 sides.
Luxurious Hotel 3: Hotel Gresham Palace, Budapest, Germany 
The Palace is Situated in Budapest, Hungary's Capital. This palace have been the chosen as winner in the "Traveler's choice award" category in 2016 by Trip-advisor. The palace will take you back in 19th century times as this was made in year 1906. It offers beautiful view of the city, situated beside the river close to Budapest Hungary Chain Bridge. There is big opera house inside palace, where you can enjoy the dinner on a table for 2 with many other musical performances.

Book this historic 5 star palace- Four Seasons, Gresham Palace, Budapest
Luxurious Spa Resort 2: Southern ocean lodge-kangaroo island, Australia  
Situated on the small hill cliff ,close to the Southern ocean Australia. It has the breath taking view of the ocean and hills. The weather is Sub tropical almost all year round. Go here to give a miss to your busy daily schedule and relax in the sun amidst the beautiful scenic beauty.
Cost: Flinders Suite starts from around 1200$.
Check there official site for more info & bookings- South Ocean Lodge
Luxurious 7 Star Hotel 1: Burj Al Arab, Dubai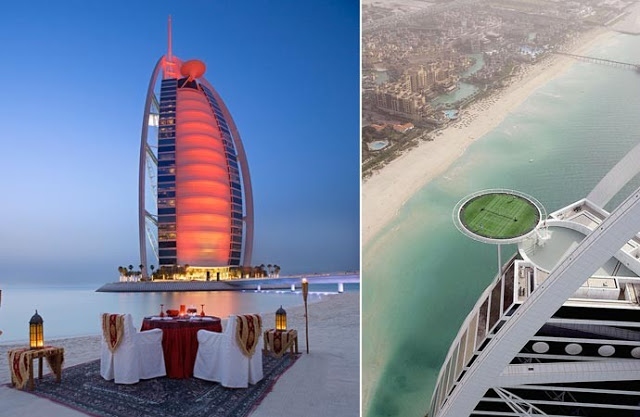 We had saved one of the best hotels of the world for the last. Burj Al Arab is a man made marvel, this 7 star hotel stands on the artificial man made inland in the middle of the sea.
The hotel is connected to the city via a bridge. As its a 7-star hotel so apart from just food you will get the best breadth taking view of the sea, the aerial view of the Dubai city, enjoy the recreation activities like aerobics, yoga classes and free water park access, get massage, Spa or get golf lessons nearby.
You can land to the top of this hotel in your own helicopter as well, as this hotel have its own helipad. This 7 star hotel is an ultimate luxurious experience that you can only get here.
Book Dubai's Most Luxurious 7 Star Hotel- Burj Al Arab, Dubai
We hope you liked our top 10 most amazing hotels and resorts for your splendid rich stay  ..!!!
These were only few best from the other best, but since we wanted to make the top 10, hence we have restricted to this top 10 list. 
We hope you liked our top 10 hotel's list..!! Do 'Like' us on Facebook and share this article with your friends/family who like to stay at most magnificent hotels & resorts of the world.
Do share your experiences about these hotels/ resorts if you have been to these top 10 awesome beautiful destinations or also do share other best hotels trips that you have done that made you feel like the prince, we would love to hear your experiences and what you think about our list of best hotels around the world in the comment box…