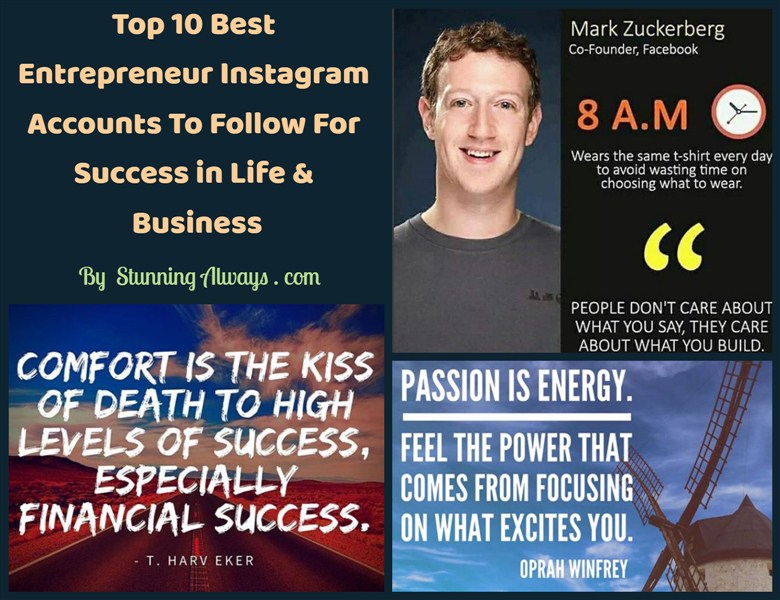 The Instagram nowadays is one of the world's largest community of awesome entrepreneurs & business tycoons. These top best entrepreneur Instagram accounts are followed by people looking for inspiration and motivation to achieve their entrepreneurship dream and stay focused on their daily business goals. People like these entrepreneur Instagram accounts to follow for business quotes, that give them a daily push to achieve newer heights in their entrepreneurship journey.
Journey of entrepreneurship can get tough and at times you can have big failures, so even a small ray of hopes can help you come out of these dark times and this ray of hope for you can be any of the below 10 entrepreneur accounts, as they keep on posting new content daily.
So Lets get started with our top 10 Best Entrepreneur Instagram Accounts –
Best Entrepreneur Instagram Account 10 : MJ Demarco
Mj Demarco is one of our own personal favorites. He is one of the most influential personality who have been committed for motivating and pushing normal people and aspiring entrepreneurs.
He has retired by the age of 33 and he is the best selling author of the book 'The Millionaire Fastlane'.
Follow MJ Demarco here – MJ Demarco
This entrepreneurship account posts many success and motivation content daily. They post the short paragraphs and key learning lessons from the best entrepreneur books, to make the followers be focused on their business idea, its planning and implementation.
Follow them on- Entrepreneurship Facts
This account posts motivation content, success quotes, entrepreneur's teachings and life lessons to help you push and achieve big success in your entrepreneurship career.
Follow them here- Your Portal To Success
Best Entrepreneur Instagram Account 7: Success Magazine
Success Magazine boost your confidence through posts, videos and personal trainings. So follow this amazing page to feel more fulfulling in your entrepreneurship and business development process.
Follow them here- Success Magazine
Best Entrepreneur Instagram Account 6: Robert Kiyosaki
Robert kiyosaki have truly been an inspiration for many aspiring entrepreneurs around the globe, including us. We had started StunningAlways after getting a positive kick by reading the teachings of Robert kiyosaki.
He is famous for her international bestseller, 'Rich Dad Poor Dad', yes even we have read that and its one of the must read books, if you start onto your journey of entrepreneurship. In case if you are interested to read this best seller, get your copy form here- 'Rich Dad Poor Dad'
Follow Robert Kiyosaki on Instagram, here's the link- Robert Kiyosaki
Best Entrepreneur Instagram Account 5: Jay Shetty
We have came to know about 'Jay' Shetty quite a few weeks back. Still, we have received lots of positivity, direction and guidance from him in such a short time, which is truly enlightening.
Jay Shetty is not exactly an entrepreneurship page, but its a motivational account and we are sure that at your tough times when you feel low in your life and business or have anxiety to deal life events, he will definitely be on your side to throw a ray of hope in your darkness.
Follow Jay Shetty Here- Jay Shetty
Best Entrepreneur Instagram Account 4: Entrepreneur
'Entrepreneur' is world's one of the most popular renowned names for entrepreneurship teachings. Entrepreneur also has an awesome website, which has lots of amazing content for aspiring and growing entrepreneurs.
We regularly seek 'entrepreneur' page for newer insights of the entrepreneurship world.
Follow 'Entrepreneur' Here – Entrepreneur
Best Entrepreneur Instagram Account 3: Think Grow Prosper
The guy who has started this page had quit his fulltime job to start this page on instagram in 2014. The philosophy of this page is to connect and support insightful & creative people to achieve their life goals.
Follow this amazing Instagram page here – Think Grow Prosper
Best Entrepreneur Instagram Account 2: Gary Vay
This guy motivation words and speeches hits its followers too hard. It gives a powerful kick to go out their in the world and do something amazing for your own self or your own business.
We know we can't have any favorites, but Gary is our personal favorite in this list.
Follow Gary here – Gary Vay
Best Entrepreneur Instagram Account 1: Elon Musk
The man who needs no introduction, the only person on this planet that wants the mankind to ' colonize & live on Mars'. His renowned companies are Paypal, Tesla, Spacex, Hyperloop & TheSolarCity. His ambitions are so strong to make human species live on mars one day, that even the most renowned entrepreneurs from the world get goose bumps.
Follow Elon Musk here- Elon Musk
Our lists ends, while your motivation and success journey starts –
We hope you get the positive motivation vibes, from above entrepreneurship accounts. Hoping it helps you to achieve great success heights in your life by following these amazing best entrepreneur Instagram accounts.
Also, if you would like to follow the author of StunningAlways, for positive motivation and happiness quotient in your life then, do follow us here- World_Happiness_Travel_Vibes